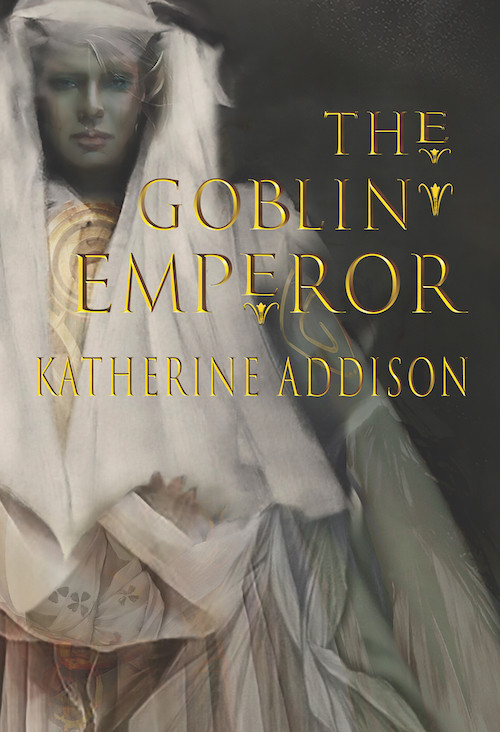 [Out of Print]We're pleased to announce the signed limited edition Katherine Addison's The Goblin Emperor,a modern day fantasy classic. Our oversized edition will be printed in two colors throughout, with a full-color wraparound dust jacket, full-color endsheets, and over 30 chapter head illustrations by Tom Canty.
About the Book:
Half-goblin Maia is the fourth and least favored son of Emperor Varenechibel IV. Maia has grown up in exile, under the thumb of a cruel cousin--far away from his father's Imperial Court and its dangerous politics. But when an airship crash takes the lives of his father and three other, more highly prized sons, Maia's position changes in an instant. The only heir left, he must ascend the throne.
Maia arrives at court into an immediate swirl of intrigue. Almost entirely untutored in the expected social and political graces, he has no one and nothing he can rely on in the Elflands' center of power, where plots surround him. His being half-goblin further complicates the court's reception of him due to the deeply entrenched prejudice of elves toward goblins. As it becomes clear that the crash that killed his father and the other heirs was not accidental, Maia's task as the Goblin Emperor becomes even harder… And so does staying alive.
Embraced as an instant classic and fan favorite, Katherine Addison's steampunk-flavored fantasy The Goblin Emperor won the 2015 Locus Award for Best Fantasy Novel, and was nominated for the Nebula, Hugo, and World Fantasy Awards. The book's endearing, memorable main character and imaginative, beautifully-conjured world-building make it the perfect novel to revisit in this new limited edition.
Lettered: 26 signed, specially bound copies, housed in a custom traycase: $850
Limited: 400 signed numbered hardcover copies: $195