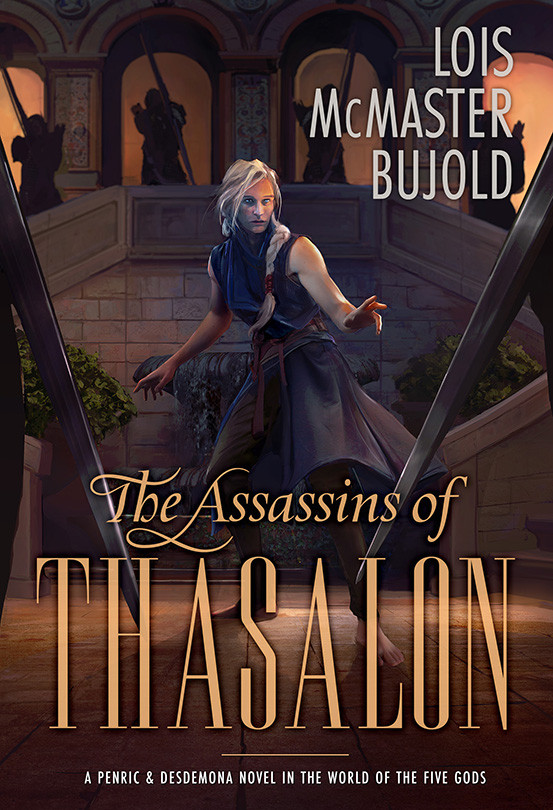 [<a href="https://subterranean-press.mybigcommerce.com/the-assassins-of-thasalon-preorder">Buy Book</a>]The Assassins of Thasalon is shipping and well over 90% sold out. Assassins is the first novel-length adventure featuring Penric and Desdemona.
As a reminder, we have not made this title to large online retailers.
About the Book:
An unholy attack upon his brother-in-law General Arisaydia pitches sorcerer Learned Penric and his Temple demon Desdemona headlong into the snake-pit of Cedonian imperial politics. But they will not travel alone. The mission from his god brings Penric some of his strangest new allies yet, and the return of some of his most valued old ones.
This novel-length story takes place two years after the events of "The Physicians of Vilnoc."
Limited: 1250 signed numbered hardcover copies: $48
From Publishers Weekly:
"This is Bujold's first novel-length work in the series, allowing her to further develop both her fascinating side characters and the inventive theology that underpins Pen's magic. Meanwhile, Pen and Des's usual witty repartee adds a dash of humor to the intricate plot. Penric and Desdemona are two of the more unusual characters in modern fantasy, and Bujold continues to find new and exciting challenges to throw at them."
From Library Journal (Starred Review):
"The continuation of the adventures of Penric and Desdemona are given room in this story filled with all the adventure, humor, and action Bujold is known for."