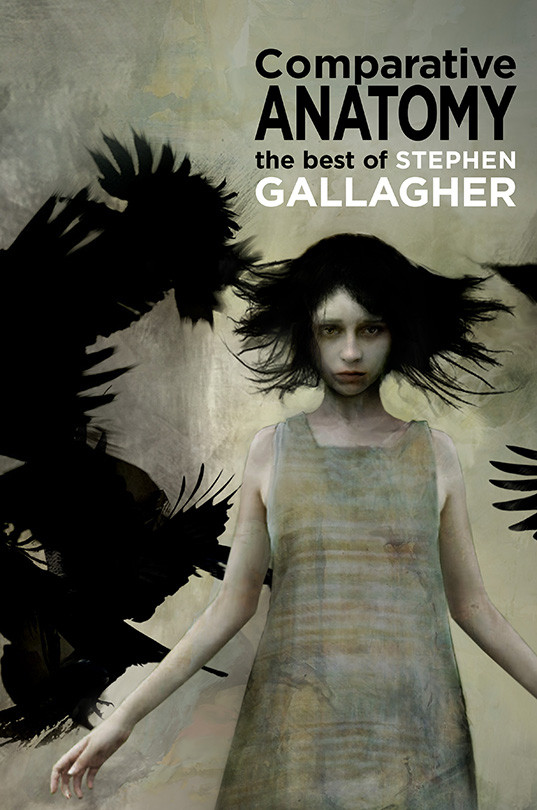 [Out of Print]One way to get a sense of a career-spanning collection, such as Stephen Gallagher's Comparative Anatomy, is to have a look at the different voices and techniques on display. Here then are the beginnings of a number of stories in this mammoth (over 560 pages) collection:
Twisted Hazel
(excerpt)
From the window I can see them coming and going. They're not the same people as before. Most of them are men, though I've counted two young women. They're working in the marked space in front of the house, the safe space, the space inside the ropes. Where the big lawn used to be, and where they won't get blown up. First they laid out poles on the ground, and then put them together into a low framework. Then they dragged a big canvas all the way over; it took ten of them to do that. Now they're all at the corners, winding at handles and calling out to each other. And as they wind the big marquee is slowly rising up, like a circus tent.
So much happening. Nothing ever happens here. It's no wonder I can't take my eyes off them.
One Dove(excerpt)
On the walk to Bethlem he had time to compose the report he'd be making to Sir James. It had been a depressing trip to Hastings, and the sight of a little sunshine out over the sea had done nothing to improve it. Sebastian's train was late back into Waterloo, and there was a further delay as the Metropolitan Police briefly closed off one of the platforms to make an arrest. Outside the station, the forecourt was jammed with motor cabs attempting to turn in a space meant for the passage of horses.
Such a racket, accomplishing so little.
Life Line(excerpt)
I stood by the phone booth while Ryan made his call, watching the Camden Town traffic and only occasionally glancing his way to see how he was getting along. He was standing with the phone to one ear and a finger stuck in the other, and he was almost having to shout to make himself heard. Ryan being intense always looked like a schoolboy getting excited over a packet of stamps. Hardly surprising I should think that way, because this was almost how long I'd known him; we'd met at Art College and hung around a lot together over the years since.
Too many years, I was beginning to feel. And probably too much hanging around, as well.
Not Here, Not Now(excerpt)
He came around the corner too fast, there was no denying that. But it wasn't his fault, it was the way they'd laid out the road. The Mondeo's offside wheels veered out over the double white lines and hogged a piece of the opposite lane, but he had a clear run at the bend and so that was no problem. He took it wide to avoid dropping his speed. He hated to brake. Only bad drivers braked on bends.
Bad drivers, faint hearts, and life's born losers.
O, Virginia(excerpt)
I grew up on those stories where the circus comes to town. You know the ones. It's always a circus or a travelling fair, and the people who come with it are always somehow other and scary. A small and placid community gets all shaken up, the town's suddenly full of magic, and everybody's life is changed and made mysterious.
Little Dead Girl Singing(excerpt)
Here's one you won't have heard before.
If you're a parent with a musical child then you'll know the festival circuit. I don't mean anything that's big business or in any way high-profile. I'm talking about those little local festivals run on dedication and postage stamps, where the venue's a school theatre or a draughty church hall and the top prize is nothing more than pennies in an envelope. I'm talking about cold Saturday mornings, small audiences made up of singing teachers and edgy parents, judges whose quality varies depending on how their judgements accord with your own, and shaky little juvenile voices cracking with nerves.
As you might have guessed, I have been there.
Shepherds' Business
(excerpt)
Picture me on an island supply boat, one of the old Clyde Puffers seeking to deliver me to my new post. This was 1947, just a couple of years after the war, and I was a young doctor relatively new to General Practice. Picture also a choppy sea, a deck that rose and fell with every wave, and a cross-current fighting hard to turn us away from the isle. Back on the mainland I'd been advised that a hearty breakfast would be the best preventative for seasickness and now, having loaded up with one, I was doing my best to hang onto it.
The Butterfly Garden(excerpt)
Way beyond town and out along the river, there was a place known to all as Shitty Hollow. It was a real name. It had disappeared from every official map and record more than two hundred years before, but there was no erasing it from the hearts and minds of the people thereabouts. Some things in life are just too dear to let go.